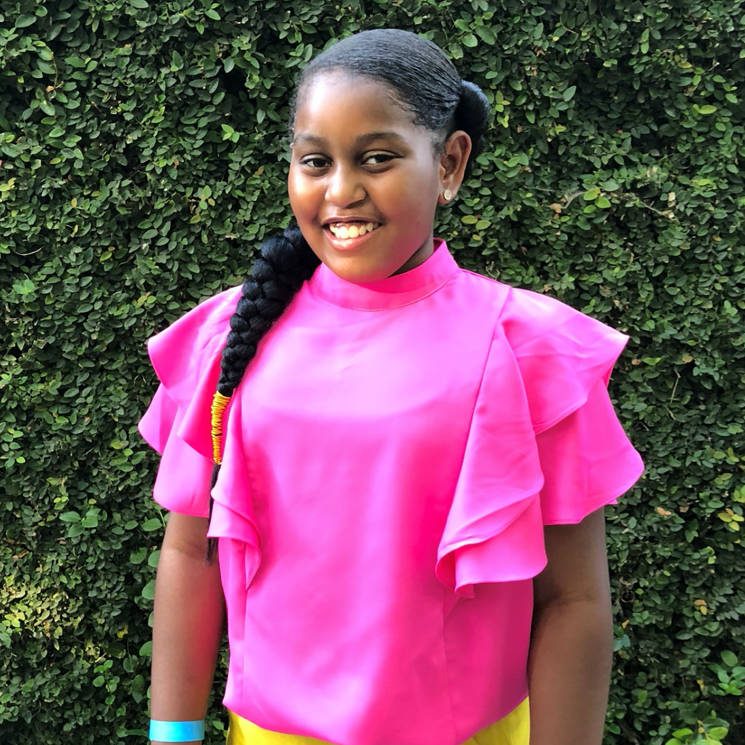 Khloe Thompson
Khloe Kares
Khloe Thompson is a young girl with a heart of gold. Her name is spelled with a "K" not a "C". She was 8 years old, when she noticed an issue with homelessness in her community. Seeing women living on the street made Khloe feel sad. She instantly wanted to do something to help. Khloe dedicates herself to serving others and to giving back to her community. She likes visiting elementary schools and other youth focused organizations like "We Day California" and "Born This Way Foundation" a Lady Gaga foundation with a goal of inspiring other young people to find ways to make a difference in their community. Khloe is a true example of how a young person can make a difference.
In 2015, Khloe started her Khloe Kares Foundation, a charity that caters to the homeless, does community service and strives to be a positive role model. She feels that "no matter how old you are, you can make a difference!" Khloe insists on making sturdy handmade "Kare Bags", instead of using plastic bags that will break when handing out to the homeless the bare necessities like tooth brushes, tooth paste, soap, lotion, feminine hygiene products and wash cloths. Children, adults and businesses often help her by donating items and helping to pass out the Kare Bags on skid row in Los Angeles, California.
Khloe has been blessed by God to have the gift of compassion for others. Since she started Khloe Kares, she has been able to help many women on the streets by giving out more than 5000 handmade Kare Bags. Khloe has been invited to share her story during television programs, in books & magazines and in social media that have been viewed around the world, like POPSUGAR, Huffington Post and YouTube.
Khloe likes to read, going to Disneyland and supporting her peers that have their own platform for serving the community. She has been invited to participate in community action programs across the country. Having the opportunity to travel to Ghana for the first time in 2017 was a significant milestone for her. Khloe is an excellent student. She has a vision board that she uses to capture and focus on her goals. One of her dreams is to become a zoologists and fashion designer. Khloe believes that no task is too big for her to tackle.
Since the age of about 9 Khloe has been sketching and has always dreamed of being apart of a fashion week. Khloe's grandma taught her how to sew and once she learned nothing could stop her. Her inspiration comes from her travels to Ghana. Khloe studies and perfects her craft by attending the Fashion Camp in Irvine California.
Speaker on Gratitude:
Title:  Points of Gratitude from a 12 year old
Description:  Being 12 you don't really learn about gratitude. You learn to share and be nice but not so much gratitude. I've learned that my gratitude towards others has not only changed my life but it's started a trend amongst my peers. My service towards others has started a whole career path for me and I didn't even know it. These steps can help anyone no matter what age you are.